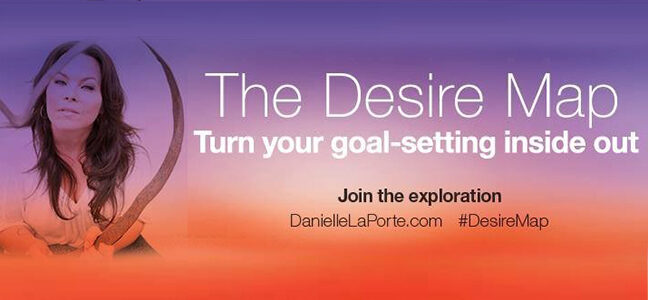 You're inspired. You're ready to create value. You're ready to shake people to the core and change lives for the better.   Ready to lead a soulful revolution. And to make a helluva lot of money while you're at it.
But with so many self-proclaimed health and wellness "gurus" out there, how do you know which life coaching workshop platform will be legit?   I was in your same boat last year. I had been burned by too many wellness experts selling me half-baked programs – so much so that I had almost sworn off wellness workshops as a side income-generation tool forever. That is, until I found out that Danielle LaPorte had created an income generation opportunity with a brand new Licensing Program from her blockbuster book, The Desire Map.
The Desire Map book is what guided me through the shame and aimlessness of a broken engagement years ago, so I brought myself back to the table one more time to see if I could make a heft side income off of this licensing program.   I'll share my learnings with you here in this desire map workshop license review so you can make an informed decision about your investment.
My questions were two-fold:
Can I make over $2,000 by doing this? (SPOILER ALERT: Yes – in fact I pre-sold almost $6,000 worth of revenue in just the first week alone – goodbye, car payments!)
Will workshop attendees feel that this is worth the cost?
Let's look deeper into what becoming a Licensor means for me and you from my experience.
PROS:
No more reinventing the wheel. Validated market for what you'll be sharing during your workshops. Danielle LaPorte's writing has hit three Amazon bestseller lists, Forbes, and Huffington Post. Simply put, thousands of people before you have said "yes" to their desires. It will be easy for you to find 10-20 more.
Lucrative revenue structure. Each participant pays between $300-500 for the workshop you run with a maximum of 20 attendees. At an average of $350/pp, that works out to $7,000 revenue for a one day workshop. That doesn't include the commissions you make on the purchase of related products through your personal affiliate links. What other product can you sell that nets you that much in a day?
Live, dedicated support team. Danielle has hired staff that exist solely to make sure that your coaching business flourishes (and profits big time). Think about it, your success breeds their success so this high level of personalized support makes perfect sense.
Fulfilling work. Licensors / Facilitators may very well be existing health and wellness coaches who wish to diversify their offerings, but I am hosting these Desire Map Workshops as side income to my Technology day job. So far the response by yoga studios and chiropractors, as well as HR departments in corporations, has been overwhelming. They want to partner with you and bring you into their place of business and help their clients thrive!
Online portal. Access your course materials 24/7/365 so you always carry your new side income stream with you – just add an internet connection.
Free publicity. You'll be placed in a Facilitator Directory Listing so people in your area can seek you out proactively. Who doesn't want to be google-able for something like that?
It's a business-in-a-box. Hit the ground running. No certifications, no writing pages of content, no writing marketing materials, no additional investment beyond your license. It's all done for you.
Return on Investment (ROI). I made back my License investment and then added thousands on top of that before I even hosted my first workshop – the materials provided make pre-selling your workshops easy.
CONS:
The resources they provide are vast and all-encompassing, but the download speeds are frustrating for some of the audio files.
There are no territory exclusives, so you have to carve out your niche for filling your workshop seats (partnering with other health and wellness businesses, corporations, or just blasting your own email list if you have one
Phase II TBD. We were just told that there will be a Phase II "Goals with a Soul" License available for anyone who becomes a Phase I licensor, however we do not have a date on that release. If you want to up-sell your client attendees to attend a follow-up workshop with you, we'll need to be on the lookout for that official 2015 launch date.
What it is…. And what it isn't. (Video)
How much does it cost?
$2,000 to become a Facilitator, or 4 payments of $500 as of the time of this writing. Renewal fees are $1,000/year after year 1, cancelable anytime.
Don't just take my word for it…
"I bought my License this morning and I already have 4 people who want to come to my first workshop in January. I've already made back the 1st installment I paid this morning, plus more!" – Sabrina Espinal
"As I am digging into the bonus materials, I am truly overwhelmed with gratitude. I can feel all of the work that has gone into what I am reading and had to stop to take a breath because it is truly more than I had hoped for. Wow. Standing ovation to Team D." – Katie Burke
And the jury says…
All things considered, this new licensing program is a well thought out, supported, done-for-you workshop platform that have been making thousands of dollars for entrepreneurs around the word since last year. For me, there was no better use of my time, talents, or treasure to achieve my financial and spiritual goals for the New Year, and I hope you experience the same kind of soul-surging success I've already enjoyed. And we're just getting started.
Peace, love, and conscious profits,
Elizabeth from NY
Note: This article is intended to provide my opinion and current knowledge of Danielle LaPorte, Inc. as an affiliate. Team Danielle has not reviewed or approved and of the content on this website.  These are my words and opinion only.