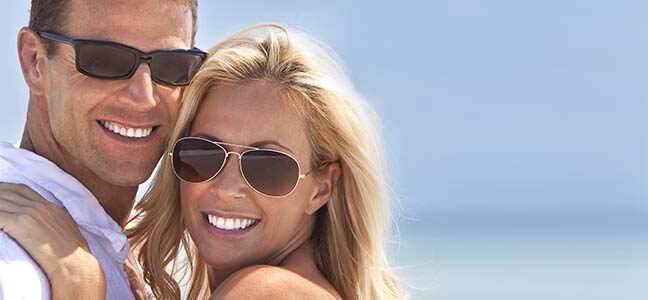 All of us face a dilemma while trying to find the right shades that would go with the face. Shopping for a pair of sunglasses in a local sunglasses store, can be far-fetched. Sometimes you pick too big, small and even if you get your size, you are not sure if it is right one to make a fashion statement. Nobody likes uncertainty. Specializing in über cool fashion shades, our sunglasses store can take your shopping experience to an absolute new level through a blend of novel store design, selection by skilled stylists and a fashionable store ambience. Our experienced staff will help you make a bold style statement.
We are an exclusive designer sunglasses store that sells a wide range of luxury, fashion designer glasses for men and women. Whether you are looking for a pair of Dolce and Gabbana, Gucci, Ray-Ban or Tom Ford sunglasses, we have it all covered for you. Every design defines the lifestyle of the person wearing the frame. Check out our latest collection available in all shapes and sizes for girls and boys, men and women. With a wide range of sunglasses and eye-wear, we are certain that you will find your perfect pair at our sunglasses store. The sunglasses and designer frames are 100% genuine. We do not sell fake goods or cheap imitations. We aim towards achieving the highest standards of our consumer comfort and contentment.
Our motto is to make you feel fantastic. We don't believe creating a dent in one's wallet just to look fabulous, and neither do you have to. Since our humble beginnings, we've taken great pride in offering the reasonable alternatives to chic looking eyeglasses.
Making a brand statement
Minimalism seems to be everywhere. In an age where technologically everything is possible, our experienced assistants will help you discover and select the right glasses. If it is a lightweight and flexible eyewear or dimension-ally accurate sunglasses, comfort is important for us. We also pay attention to the finishing of the frames, excellent coatings that create a cohesive and exciting designs. It serves as an accessory that has substance and style associated with it. So, you can be assured of a perfect pair of sunglasses and eyewear collection.
Whether you are looking for celebrity-inspired sunglasses to glasses that match your busy lifestyle, our sun glass experts will handpick for you the latest styles. If you want to keep yourself up to date with the latest Ray Ban sunglasses and eye-wear, then visit our store.
We want your experience to be smooth and enjoyable as possible, so do not be a stranger, and visit our store to know more about us.