I've been going to the SXSW Interactive festival on and off since 2006. It's where I made most of my wonderful internet friends and it's also where I met my husband. Even though it has experienced massive growth over the last few years, it is still a worthwhile conference, especially for the networking.
While I'm not the biggest fan of the content selection process, it is a combination of popularity and educated selection, and it is very light on curation. Because it is crowdsourced it is probably the best conference for up and coming interactive movers and shakers to get their first speaking opportunity, but you still have to get over the popularity hurdle.
So this is where I am. My friend, Jay from Bureau West, and I have submitted our first panel to SXSW. It is about interactive market research tools and using them to better understand your target consumers. Jay is going to be speaking about desktop video and interactive tools and I will be talking about mobile computing tools. We got past the first round of selection, and now we're on to the next round, which is the popularity contest.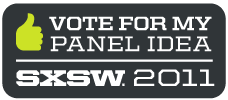 Click the image and vote for us. We're really excited about sharing what we've learned about user and market research. It's a great topic and we're really good at making these topics relatable.
It doesn't matter if you are planning to go to SXSW or not. We still need your vote.